lets.eat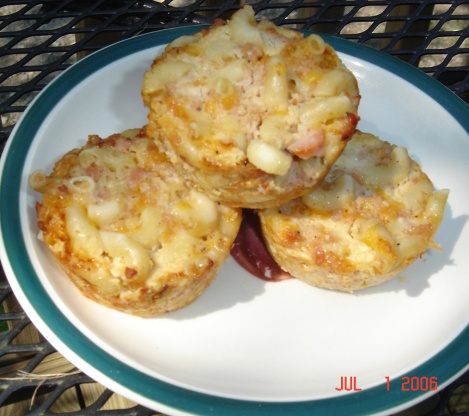 Great quick brunch or dinner recipe for cooked left-over ham. This was one of my mom's recipes that I remember from my childhood.

These were tasty though not something I'd eat every day. I was looking for something to do with the leftovers, so I made these with rotini & leftover shredded chicken (instead of ham). I think the chicken was probably better than ham would be. Next time I will not use rotini--macaroni instead--and will put the pasta on the bottom of the muffin cup, topping with a scoop of the rest of the ingredients. My pasta that was on the top of the muffin cups got kind of dry and chewy.
Saute ham in butter.
Beat eggs, add all other ingredients.
Spray muffin pan.
Spoon mixture into muffin pan (12 count).
Bake at 400 deg F 20-25 minutes.
You can serve this with a cheese sauce over.