Annacia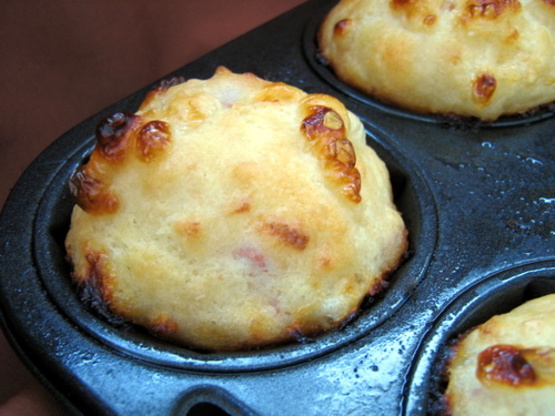 A yummy low calorie way to start the day. I finally decided to cook these delicious muffins, and they came out wonderfully! My household doesn't always carry reduced-fat or nonfat dairy products, so I used what I had and I'm sure everything still came out the same (not really a big baker so I don't understand what the difference between nonfat or whole milk will have on the final product). I substituted the real onion for onion power, and just added the tablespoon of butter on its own into the mix. Still delicious! When I take a bite, it's all gooey and soft with a hint of cheese and onion. You get the chewiness of the sliced ham and after the cheese and onion fade, you can taste it. I used prepackaged and pre-sliced ham instead of honey glazed, but I'll be trying that out in a couple of days because of Easter. I can't wait! This was a pleasant surprise/treat for my family because we're always eating grits or pancakes. They enjoyed it, and I'm hoping that in time this will replace those dreaded biscuits we're always buying! Agh! Thanks for sharing this gem of a recipe!!
In a nonstick skillet, saute onion in butter until tender; set aside. In a bowl, combine cheese and biscuit mix. Stir in milk and egg just until moistened. Fold in ham and onion mixture.
Coat muffin cups with cooking spray or use paper liners; fill three-fourths full. Bake at 425° for 13-15 minutes or until a toothpick inserted near the center comes out clean. Cool for 5 minutes before removing from pan to a wire rack. Serve warm.