Ham, Macaroni, and Cheese Casserole
Bergy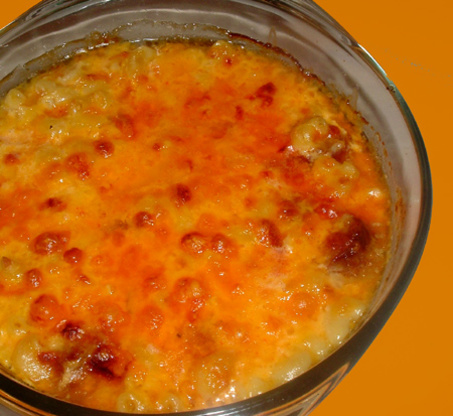 Recipe Source: Crisco http://crisco.com/scripts/display_recipe.asp?recipe_nbr=37950 I altered this one a bit to suit our tastes. My husband and daughter love it. The more cheese and meat the better.

Top Review by Bergy
I did not award any stars to this recipe as there appears to be a mistake with the amount of flour. The one tbsp did not begin thicken the sauce so I improvised and used 3 additional tsp of corn starch - I used a ham sausage. The end result was tasty but the texture was still not right. I have z-mailed the chef and when there is a response I will make the recipe again and award stars
Preheat oven to 350ºF.
Melt the margarine in a saucepan.
Stir in the flour until well mixed.
Pour in the milk, stirring until thickened. Stir in 1-1/2 cups of the cheese and mix well.
Stir ham into the cheese sauce; then stir the cheese sauce into the macaroni in a casserole dish.
Top with the remaining cheese. Bake for 30 minutes.