Prep 15 mins
Cook 1 hr 20 mins
A family favorite. Hope it is for yours ! Excellent for using left over Ham.
Directions
combine eggs, milk, saltines, onion and 1/2 tsp dry mustard, and pepper.
Add ham and pork.
Mix well.
Shape into loaf and place in a 13x9x2 baking pan.
Bake at 350 for 1 hours
For Glaze: combine Brown sugar, vinegar, and 1/2 tsp dry mustard.
Spoon glaze over loaf.
Bake additional 20 minutes, basting with glaze.
Most Helpful
Made this for supper, tonight & it was EXCELLANT... VERY moist & flavorful!!! I used LAWRY's Seasoned Pepper & I made a different glaze, with just brown sugar & a little ginger ale. Will most definately make it, again...THANKS for sharing!!!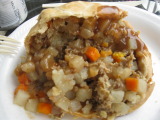 This recipe was made on 9/23/08 for mine and SO's dinner, and for the "Beyond Beef Challenge 2008 " in the Cooking Photo Forum.And since there was only the two of us, the recipe was cut in half.As I do with most "meat" loaf recipes, I added a bit of garlic powder to the mixture.After baking for 45 minutes, the internal temp. had reached 160º, so I decided to go ahead and make the glaze, and top it..And the glaze was made this way, 1/4 cup of brown sugar,1/4 teaspoon of ground mustard, and 1/2 teaspoon vinegar ( SO doesn't care for too much vinegar).We both decided that if this is made again, I would add some salt and crushed red pepper to "perk it up abit".Thanks for posting and, "Keep Smiling :)"

This was so yummy! So easy! The family loved it. I will be keeping this recipe to use again this winter, it is a winner! Made just as directed. Thank you for posting this recipe! Pac-Fall07