Mami J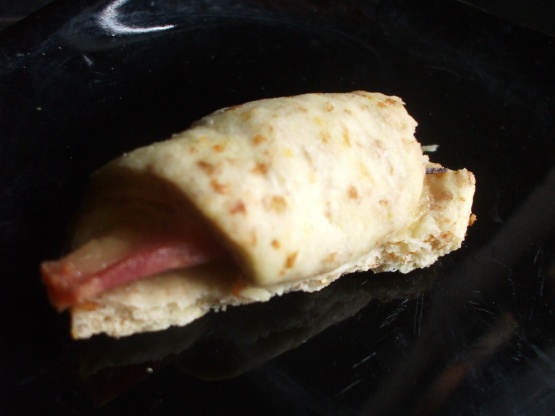 This is perfect to have in the freezer as they defrost quickly and go both, for a snack or a light dinner with salad. You can even use them for breakfast or brunch and they are great for picnics or trips to the country side. They are a classic! And it is yeast free!

Top Review by Mami J
Yum! These were really good!I made half a batch. I had a little trouble with the measurements, but after some asking around, I found out that a pint of flour=about 2 cups, so I went with that, using half whole-wheat, half all-purpose flour. I added the oil first, then water until the dough felt "right". I filled them with Monterey Jack cheese and strips of ham and thinly sliced green onions. Next time I'll make the full amount to keep some in the freezer for my kids lunches. Thank you Iceland! Made for Pick a Chef '09.
Put the flour, salt, sugar and baking powder together and mix.
Slowly pour the oil in and mix. Add the water by slowly pouring it into the mixing bowl and keep on mixing the whole time to check on how the dough is doing. You might have to add a little flour or water until it looks soft and shiny but does not stick to your fingers when touching.
Let the dough rest for about 20 minutes. Prepare the filling in the meantime.
Cut the ham into little pieces (about as big as a fingernail) and mix with the fine chopped onion.
Blend the cheese spread under it (take your time--first I thought it would not work but it becomes smooth quite in a sudden).
Spice with salt, pepper and oregano.
Roll the dough out or flat out little round patties, cut triangles out of it and put 1 spoon filling on the long end of it.
Roll up and form a horn, watching out that the filling does not fall out. Press the ends together to avoid that.
Bake your horns at 225° celcius for about 20 minutes or until golden.