ImPat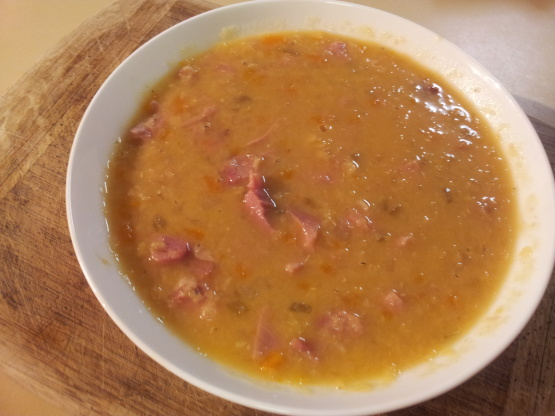 I recently found this recipe on the Food TV website and have not tried it yet. It is one of Emeril's recipes.

Top Review by ImPat
I did a full recipe with one huge smoked ham hock which took nearly 2 hours to get to the tender stage and had to add about 1 1/2 cups of extra stock otherwise cooked as specified and 3 of us polished of the lot - I did use a low sodium stock and didn't add any salt as I think the ham hock gives enough of a salty flavour to the soup, served with slices of crusty bread and we had a delicious meal we all thoroughly enjoyed, thank you Normaone, made for Name that Ingredient tag game.
In a large saucepan, over medium heat, add the oil. When the oil is hot, add the onions, celery and carrots. Season with salt and pepper. Saute for 4 minutes. Add the garlic, bay leaves and thyme. Saute for 1 minute. Add the ham hocks and stock. Bring the liquid to a boil, reduce heat to medium low and cook, covered for about an hour, or until ham hocks are tender. Add the lentils and continue to cook 25 to 30 minutes or until lentils are tender. Remove from heat and stir in the parsley. Reseason with salt and pepper if needed. Remove ham hocks and remove the meat. Add the ham back into the soup. Serve with a hearty crusty bread.