Ham, Green Beans and Potatoes (Crock Pot)
Parsley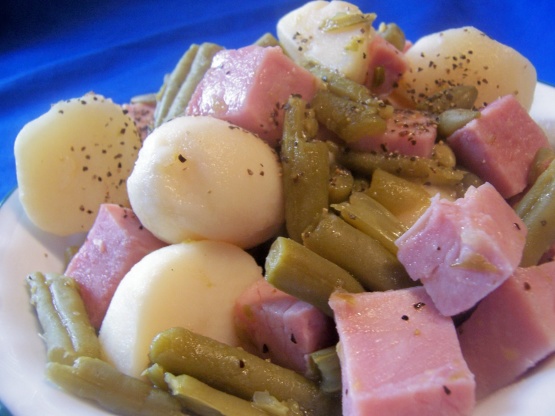 This recipe I believe is Pennsylvania Dutch. It has been passed down in my family for generations and they have all absolutely loved it and still do!! Try it for yourself. The ham flavors the potatoes and green beans and gives them a wonderful flavor! Its quick and easy and complete meal for your family!

My Penn Dutch family in Bethlehem, PA, would disown me if they knew I used canned green beans to try to copy their dish! None of them own crock pots and, for sure, none of them us ANYTHING from a can! But I did have some canned green beans and some deli ham and thought, "what the heck" and threw them in a crock pot with some quartered potatoes, salt & pepper. After 6 hours I checked on them. What I got was mushy green beans, tasteless ham and bland potatoes. Not good at all! Dumping stuff in a crock pot from a can is for college students on a budget. This was just gross and can't believe I wasted my time & electricity. It can be done just as easily but with so much flavor using fresh beans, potatoes and a ham hock. The ham hock is what imparts it's flavor in green beans & potatoes.
2 1⁄2 lbs canned ham, cubed or 3 (10 ounce) packagesdiced ham

3

(15 ounce) cans canned green beans (not french style)

4

(15 ounce) cansof whole new potatoes
salt & pepper
very simple and easy complete meal!
Add your ham cubed to your preference, canned green beans add juice from at least one can, add canned whole potatoes add juice from at least one can.
add to crock pot cook on slow for at least 6 hours and you have a quick and complete meal.
this recipe should serve 4-6 people.
I add a little vinegar to my own bowl myself, try it you may love it I DO!