Bergy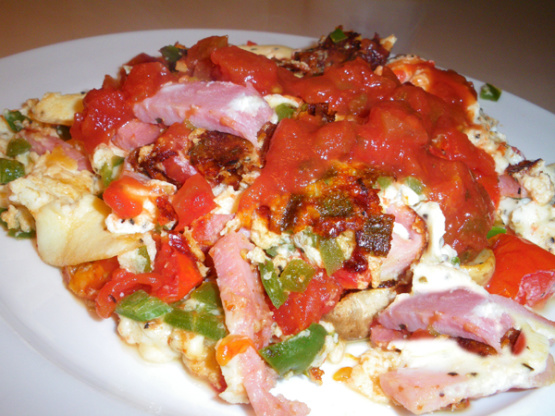 This recipe was inspired by Ham and Eggs by Holy Tea Time in Texas but as you can see ended up quite different. It made a very tasty dinner. I like using Havarti lite cheese in this recipe. The choice is yours - or use regular.
Beat the eggs and cottage cheese together.
Heat a skillet, medium heat and lightly spray with oil.
Add the ham, Jalapeno, Tomato, oregano & pepper
Stir fry until heated through.
Pour in the egg mixture, cover & cook over medium heat (6 on an electric stove).
After 3 minutes add the lite cheese, cover and continue cooking gor 2 more minutes.
Flip 1/2 over the other half or scramble.
Place on heated plate add the Salsa on top & enjoy.