Sara 76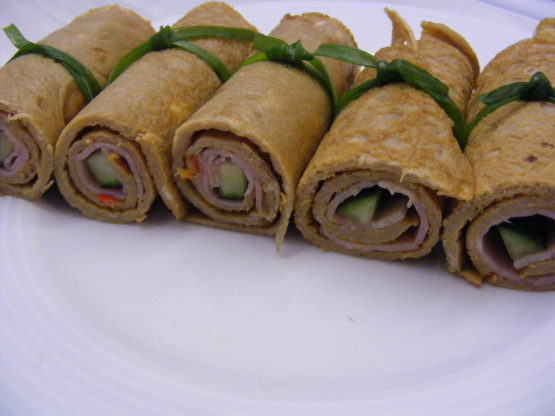 This is from the June 2011 edition of "Recipes +" magazine. They are so yum! I made them for a party, so I cut each roll in half before I tied them, to make them more finger food size. Also, i used regular soy sauce (as the recipe called for) but I think they would have a better colour if light soy saucewas used. I've posted the light soy sauce in the recipe, but either will work fine! I plan to make these as a lunch box filler.
Whisk eggs with soy sauce and chilli in a large jug. Spray a 12cm non-stick frying pan with oil then heat over a moderate heat.
For each omelet (you'll need 12), pour 1/4 cup of egg mixture into pan, swirl to coat base. Cook for 1 minute or until omelet is golden brown underneath. Turn; cook for 1 more minute. Slide onto a heatproof plate. Cover omelets with foil.
Place half the omelets on a work surface. Top each with a slice of ham and a piece of cucumber. Roll to enclose ham and cucumber, leaving ends open. Tie with onion strips to secure. Repeat with remaining omelets, ham, and cucumber. Place on a serving platter. Serve with hoisin sauce.