Derf2440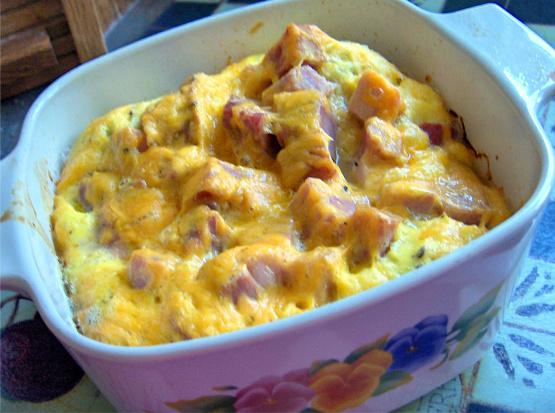 Top Review by Tattwa
I used this recipe for a Welcome Spring festival potluck. It was a BIG hit! The only suggestion I have to offer is how to tell when it's done...the eggs will rise and there won't be any liquid egg mixture left on the bottom of the casserole dish. When cooking a large serving add the cheese in the last 15-20 minutes of baking time. Thank you so much for sharing this wonderful egg dish. I'm sure it's going to be a favorite in my home for a long time.
Spray casserole dish with a non-stick cooking spray.
Trim crusts from bread, cut slices and place bread on the bottom of casserole dish.
Beat eggs, add salt, pepper, evaporated milk and mix well.
Pour egg mixture over bread.
Sprinkle diced ham over egg mixture and cover.
Place casserole in refrigerator overnight or for at least five hours.
Remove casserole from the refrigerator, sprinkle cheese on top of eggs.
Place casserole in a preheated 375 degree oven for 20 to 22 minutes depending on the depth of the casserole dish.