Annacia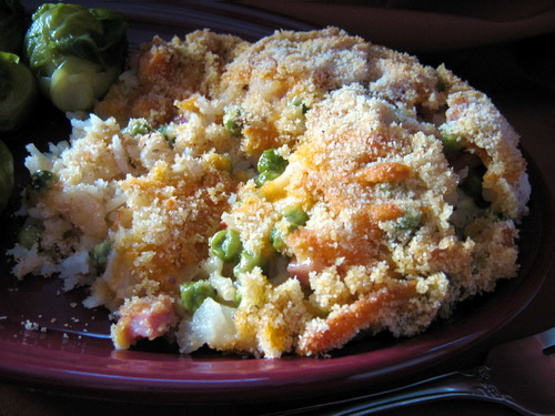 Very cheesy. Turkey ham works fine in this.

Very enjoyable. I made a half recipe for DH and I and there is enough left for a small lunch! I tried the cut back on the fat so I didn't use any butter but cooked the onion is a tsp of water in the micro till it was soft and transparent, used low fat cheese and skim milk. DH really enjoyed it, and thats saying a lot! The flavors work very well together. Great comfort food that is simple to make. This is something that I'll make again!
Heat 3 Tbsp butter in skillet and saute onion 5 minutes, stirring often.
Blend in next 4 ingredients (flour through worcestershire); you may need to add another 1 Tbsp butter if too much has cooked away.
Add milk gradually and cook, stirring constantly, until smooth and thickened.
Add 1 cup cheese and stir until melted and well blended.
Stir in ham and peas.
Spread 2 cups rice in the bottom of a shallow baking dish, pour half the ham-peas-sauce mixture over the rice and top with 1/2 cup shredded cheese.
Repeat Step 6.
Sprinkle with crumbs and dot with remaining 2 Tbsp butter.
Bake at 400F until lightly browned and bubbly, about 20 minutes.