KimmieOH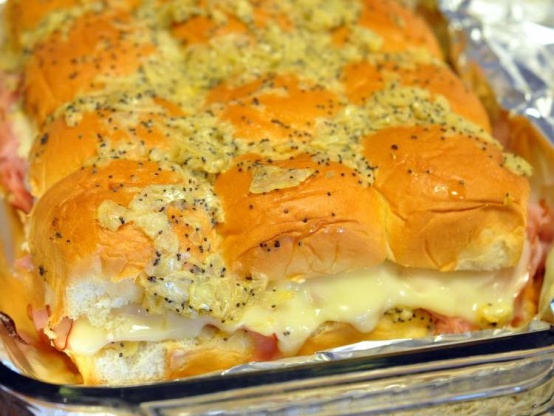 This ham and cheese sandwich is great as an appetizer, snack or a light meal. Ham and Swiss cheese are baked inside rolls with a flavorful spread to form delicious little sandwiches. I can guarantee everyone will be asking for more ham and cheese pleeze…….

I love this little things. This is almost the way my mom makes them, except she mixes everything together, including the chopped ham and shredded cheese. I use this recipe for the spread, but I generally just add sliced ham and cheese. They are excellent either way!
Preheat oven to 350 degrees. In a medium bowl, mix together butter, poppy seeds,
onion, Worcestershire sauce and prepared Dijon-style mustard. Slice rolls in half horizontally and set aside tops. Spread bottoms with the butter mixture. Top with ham and Swiss cheese. Replace tops. Arrange rolls in a single layer in a medium-baking dish. Bake in the preheated oven 10 to 12 minutes, until rolls are lightly browned and cheese is melted.