Ham & Cheese Crescent Roll Ups
Prep 10 mins
Cook 15 mins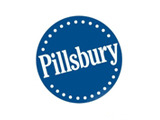 Ham and cheese crescents are an easy and delicious weeknight dinner, ready in just 25 minutes.
226.79 g can Pillsbury Refrigerated Crescent Dinner Rolls
8 thin slices cooked ham (8 oz)
4 thin slices cheddar cheese, each cut into 4 strips (4 oz)
Directions
Heat oven to 350°F Separate dough into 8 triangles. Place 1 piece of ham on each triangle; place 2 strips of cheese down center of ham. Fold in edges of ham to match shape of dough triangle.
Roll up each crescent, ending at tip of triangle. Place with tips down on ungreased cookie sheet.
Bake 15 to 19 minutes or until golden brown. Immediately remove from cookie sheet. Serve warm.
Most Helpful
Super easy and super yummy!

Delicious and oh so easy. Loved these. Made as an appetizer and they were gobbled up. I agree with January Bride about making sure the cheese is wrapped up by the ham and the ham is inside. It definitely gives it the multiple layered flavors. A keeper for sure. Thanks for posting Pillsbury. Made for PAC April 2012. Enjoy! ChefDLH
Delish and easy! What I discovered is that you really want to create a true bundle with the cheese securely inside of the ham so that the cheese doesn't run out. I also suggest wrapping the crescent roll completely around the ham. I used a light, low sodium ham and processed swiss and they were kind of salty. Fun served with a salad for lunch!