Ham, Cheese and Mushroom Quiche
Sara 76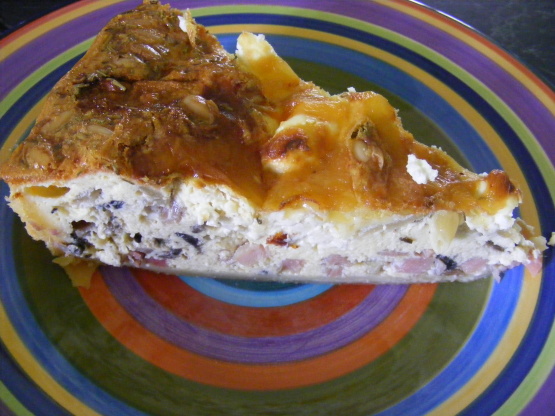 I've adapted this recipe from one which featured in the pre-Christmas 2008 Australian magazine 'New Idea' as an excellent way to give new life to various leftovers from the Christmas Day meal, in this case, leftover leg ham. This recipe can, of course, be made at any time of year, with leftover ham or ham bought specifically for making this recipe. The preparation time below includes the time needed to bake and cool the pastry case. The other recipes posted from this collection are Roast Potato Tortilla, Roast Beef, Blue Cheese and Caramelised Onion Bagels and Char Siu Pork Pancakes.

Bluemoon, This was the most delicious quiche I have ever made! Absolutley worth every minute of cooking. This is a stunner. I served this to my PTO officers at the 1st meeting of the year with my Recipe #341044 and iced tea with mint. Perfect lunch! Everyone went home with the recipe and the website address.
Preheat the oven to 180°C/350°-375°F/4-5 gas mark.
Grease a 20cm (8") round springform pan.
Join the pastry sheets, with one slightly overlapping; press the join to seal; line the pan with the pastryand trim the edge; place the pan on an oven tray; cover with baking paper and fill with dried beans or rice and cook in a moderate 180°C/350°-375°F/4-5 gas mark oven for 10 minutes; remove beans or rice and paper; return the pastrry case to the oven for 10 minutes, then remove and allow it to cool.
Heat the oil in a large, preferably non-stick, pan; add the mushrooms andham and cook, stirring, until the mushrooms are soft; remove and allow to cool, then spread them over the base of the pastry case; spread the apple slices over the ham and musrooms and sprinkle with the cream cheese.
Combine the eggs, sour cream, thyme and rosemary in a bowl and whisk until they are well-combined. Stir in the pinenuts then pour the egg mixture into the pastry case and sprinkle the top with the grated tasty cheese.
Cook in a moderate 180°C/350°-375°F/4-5 gas mark oven for about 50 minutes, or until set.
Serve warm or cold with salad greens and crusty rolls.