Bri22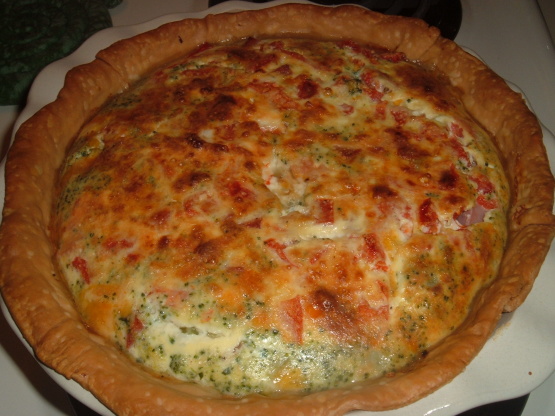 I used a 9x9 square glass pan for the quiche and added an extra egg. The quiche was rather bland; it needs more flavor; maybe green onion and more pepper...
Preheat oven to 350°F.
In a skillet over medium-high heat, saute' mushrooms and garlic in butter until tender.
Sprinkle Swiss cheese in pie crust.
Top with mushroom mixture, ham and broccoli.
In a mixing bowl, beat together eggs, milk, flour, white pepper and nutmeg; pour into pie crust.
Sprinkle with Romano or Parmesan cheese.
Bake 35 to 40 minutes or until a knife inserted near center comes out clean.
Let stand 10 minutes before serving.