Ham, Apple, and Cheese Omelet
Bergy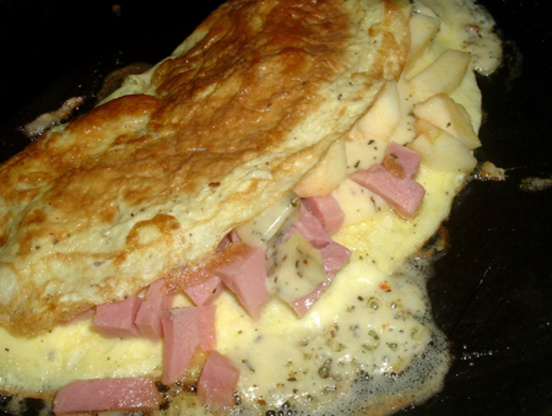 For a hearty breakfast or late-night casual supper.

Top Review by Bergy
I have my own recipe for a one person omelet, and was tempted to use it, however I am glad I followed this recipe the result was just right for this recipe.I was more than pleased with the filling-I wondered if the omelet would be too cold etc etc - It was perfect. Crunch & fresh taste from the apple the cheese melted and the carnivore in me loved the ham. I used Italian flavored Gouda for the cheese. The end result was a lovely dinner for me - This recipe would be perfect too for lunch or a brunch Thanks ratherbe swimmin' for another excellent recipe
In a bowl, combine the apple, cheese, and ham; set aside.
In another bowl, whisk the eggs, water, salt, and pepper together.
In an 8-inch omelet pan or nonstick skillet over medium heat, melt the butter; swirl to coat the bottom of the skillet.
When butter foams, pour in egg mixture all at once.
Let set until edges start to cook, about 20 seconds.
Using a spatula, gently lift edges of mixture and tip the skillet to allow the uncooked egg mixture to flow underneath.
Continue doing this until the top is almost dry (3-4 minutes).
Spoon cheese mixture over ½ of the omelet; fold over the other half to cover.
Let stand a few seconds; turn out onto a warmed plate; serve immediately.