Ham and Swiss Loaded Baked Potatoes
Annacia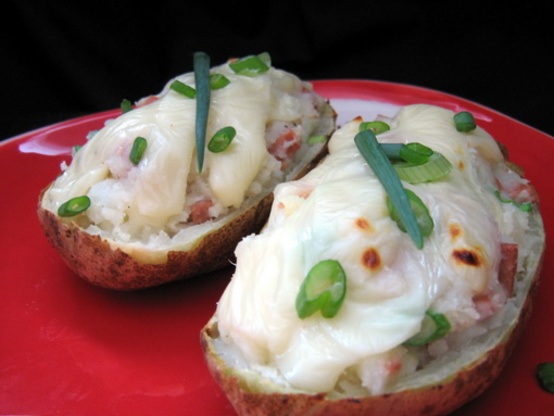 This is a yummy, fairly healthy version of stuffed potatoes adapted from Cooking Light.

Who doesn't love twice baked potatoes? With this recipe you get all the goodness without all of the heart killing fat, it's win-win. I oven baked the spud because I prefer it over microwaved. Used veggie ham and fat free Swiss Cheese. I ground in a bit of black pepper into the mix and some 1/2 Salt before stirring it all together. The end result was a very hearty, healthy, and filling lunch that was simply delicious.
Pierce potatoes with a fork; arrange in a circle on paper towels in microwave oven.
Microwave at high 16 minutes or until done, rearranging potatoes after 8 minutes. Let stand 5 minutes.
Preheat broiler.
Cut each potato in half lengthwise; scoop out pulp, leaving a 1/4-inch-thick shell. Combine potato pulp, ham, 1/2 cup cheese, 1/3 cup green onions, sour cream, and pepper.
Spoon the potato mixture into shells. Combine 1/2 cup cheese and remaining green onions, and sprinkle over potatoes. Place potatoes on a baking sheet; broil 4 minutes or until golden.