Ham and Swiss Cheese Quiche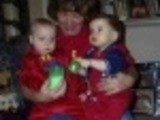 This quiche has been a family favorite for many years. Very tasty and fairly easy to make. It has a mild flavor and even my kids liked it (if they couldn't see the green pepper.) You can use left over ham or as I often do ham lunch meat. This does make a very full pie crust.
Directions
Toss together the flour and swiss cheese.
Mix in the half and half.
Slightly beat the eggs, with a fork, and stir into mixture.
Mix in the ham, onion, and green pepper.
Season with salt and pepper.
Pour into a large pie crust.
Bake at 375 degrees for 50-60 minutes.
Most Helpful
This quiche is absolutely delicious. I left out the green peppers because my husband doesn't like and it was still the bomb. I took a piece to my friend at work and she asked for the recipe. She said it was the best quiche she has ever had. Thanks for a awesome recipe
I had no problems with overflow, but I do have a special way of measuring fillings for any quiche and don't follow measurements in these types of recipes. I pile my filling ingredients (except eggs and cream, of course) into my shell, dump them into a bowl, toss with flour, other dry seasonings, then put it back into the shell and mix the custard. Then I pour the custard over all, stopping when it's full enough. Sometimes I waste a bit, but I don't mind. This works for me every time. I did add some mustard to the custard for this recipe and it turned out quite tasty!
i agree that this should make 2 deep dish pies. it overflowed and made quite a mess on the pan underneath. i added hot sauce and it was still a bit bland for our taste. sorry.