Ham and Smoked Gouda Salad

I love Gouda cheese. You can substitute smoked cheddar if you want. This is a quick, easy salad that is satisfying.
Directions
Cook pasta according to package directions; rinse in cold water; drain.
In a small bowl, mix together the mayo, honey and mustard.
In a serving bowl, add the pasta, ham, celery, and cheese; stir to combine.
Add the dressing mixture; toss to coat.
Season with salt and pepper if desired.
Serve now or chill and serve later.
Reviews
Most Helpful
This is really a nice way to use up some leftover ham and it's unusual to have the smoked gouda in the salad. A real nice touch! Made exactly as posted and had a very nice lunch to bring to work. Thanks for sharing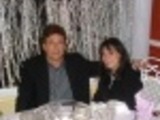 I made this the other day for lunch and although it was very good as is, but lacked a little something for me. I always make the recipe 2 ways, as it is written and then with any changes I make so I can accurately review it.

I used Orecchiette, the little ears pasta, but that didn't change the flavor. But, I did add 4 scallions, white and green parts and just a bit more celery, including the leaves for a bit more flavor. I felt it needed some onion flavor as well as a little color. 1 tablespoon fresh parsley (flat leaf) fine chopped. I loved the smoky gouda with the ham. A key to me is to use a good ham. I used a good Deli baked ham thick cut and then I diced it. I make ham all the time, so next time I have my ham leftovers ... I will be sure to make this.

And again, it was good as written, I just wanted a little onion flavor for me and a little green. I will definitely make this again. A very nice easy recipe.

LOVE it!! Made this recipe for tonights dinner and it is perfect! I used Farfalle tri color organic pasta, canadian bacon cubed up, and some wonderful smoked gouda from the farmers market. But of course, (playing on the commercial hehe) I used Grey Poupon dijon mustard Yum! May even add some black olives and green onion next time... Thank You for sharing a wonderful salad!