Ham and Potato Soup (For the Slow Cooker)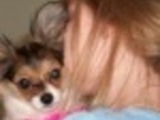 This is so good on a cold day. We usually serve it with fresh crusty bread and butter. One of my favorite comfort foods.
Directions
Combine all ingredients in a large slow cooker. Cover and cook on low-heat setting for 4 to 6 hours or until potatoes are tender. To serve garnish with diced green onions.
NOTE: Country ham is salt cured and not honey cured.
Reviews
Most Helpful
This was very good and perfect for a gray, cold winters day. I made it as directed with a cook time of 6 hours; be sure to use country ham because the saltiness of it flavors the soup. I may try next time to use something lighter than heavy cream, but it was delicious as written, just not light! Thanks Sandy for sharing!!
Very tasty and satisfying. The smoked gouda really gave a wonderful flavor. I actually reversed the amounts of the cheeses, so I used 8 oz of smoked gouda and 4 oz of cheddar. I was afraid to add the cheeses in the beginning, so I added them during the last 45 minutes of cooking time. Thanx for sharing this crockpot soup recipe!

Planned to spend Sunday afternoon making soup--from "scratch". This took maybe 15 minutes to assemble, then I had the rest of the day FREE!! If you slice the potatoes 1" thick-- you will need to turn up the crockpot to HIGH for an hour, once or twice. It was tasty and surprisingly filling -- enough for 2 more meals left. In this day of healthy eating, I could almost feel my arteries clog! -- but fat tastes GOOD.