Lainey39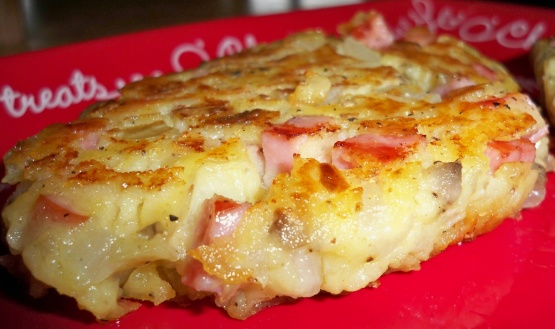 A breakfast treat you can start either with fresh mashed or leftovers, cook time depends on this.

Top Review by piseag
These were okay, but I think the recipe needs some adjusting. I don't know if my ratio of potatoes to everything else was just off or what, but there was no keeping these together. My best attempt resulted in half the patty remaining whole. I think too that the onion would be better if it was fried before adding to the potato mixture. The flavours were good and it was nice to have potatoes for breakfast.
4

medium potatoes, cooked and mashed

4

mushrooms, finely diced

4

slices ham, finely diced

1

onion, finely diced
1⁄4 cup flour
1 1⁄2 tablespoons butter

1

egg, beaten
salt & pepper
oil (for frying)
Combine all ingredients except oil. Turn onto a floured board and knead until smooth. Roll out like a large sausage. Cut into 10 slices.
Heat oil and fry each slice until browned on both sides. Serve with butter for breakfast.
tasty variations:.
replace ham with:.
1 cup cooked and diced chicken.
4 slices bacon, diced and lightly cooked.
3 tbsp grated Cheddar cheese.
replace mushrooms with:.
1 tomato, finely chopped.
1/2 green pepper, seeded and diced.
3 tbsp corn kernels, drained.
replace onion with:.
2 green onions, thinly sliced.
1 tbsp chopped fresh chives or parsley.