Mandy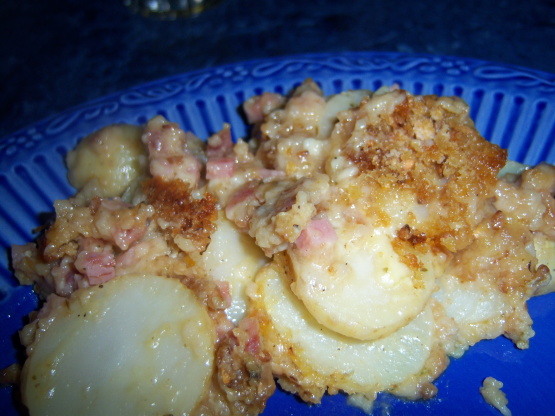 This makes a wonderful one-dish meal served with a salad. You could also omit the ham and have a great side dish. I've also taken this to potlucks and it gets rave reviews.

Top Review by Mandy
I made this to go alongside some steak for dinner, instead of mixing the herbs I just sprinkled a bit of each onto each layer and I didn't fry the breadcrumbs just sprinkled them on top at the end minus the butter. I also used some cubed bacon instead of ham as that what I had on hand. My minor changes did nothing to effect the taste of this dish, it was absolutely delicious, I love the dijon in this, it really makes this taste a lot classier than your average potato gratin. Yum!
Mix the thyme, salt and pepper in a small bowl. Grate the cheddar cheese and mix lightly with the flour.
In another bowl, mix the cream, broth and mustard.
Cover the bottom of a buttered baking dish with a layer of potatoes.
Sprinkle 1/3 of the spices, ham and cheese.
Put down another layer of potatoes, then another third of the spices, ham and cheese. Then one final layer of potatoes, spices, cheese and ham.
Pour in the liquid and bake at 350° for 30 minutes.
Meanwhile, brown the bread crumbs lightly in a skillet with the butter.
Sprinkle them over the potatoes and bake another 45 minutes.
Let the dish stand for 5 or 10 minutes before serving.