Ham and Pickle Swirls Appetizer
ChefDLH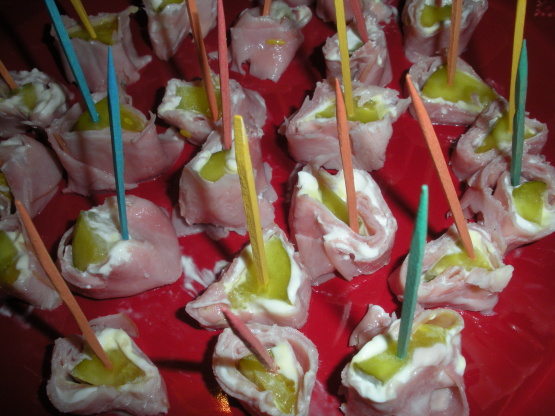 This appetizer recipe is a cute one on a buffet and is a good filler. It is easy to make and requires no cooking so it frees up time and space. Serve it with other things in case your guests do not care for pickles. If they do like pickles they will gobble them up. Enjoy! ChefDLH

Have been making these for years, very tasty! I use a kosher dill spear and cut a bit of the seeded part off before rolling. (not so much juice that way.) We also use slices of pastrami and roast beef as well as the ham. Great simple appy. Everybody scarfs these down! Thanks for posting, ChefDLH.
1

cup cream cheese with garlic and herbs

10

slices deli ham

10

pickle spears
Take one slice of ham.
Spread a tablespoon of cream cheese spread completely on each ham slice.
Put one dill pickle spear in the middle.
roll up each ham slice.
chill for an hour or two until cold and/or ready to eat.
slice cross ways into 4 pieces or swirls.
lay slice down so it resembles a circle.
spear with a toothpick.
Repeat for 9 more slices.
Serve slightly chilled.