Ham and Mozzarella Sticks
alligirl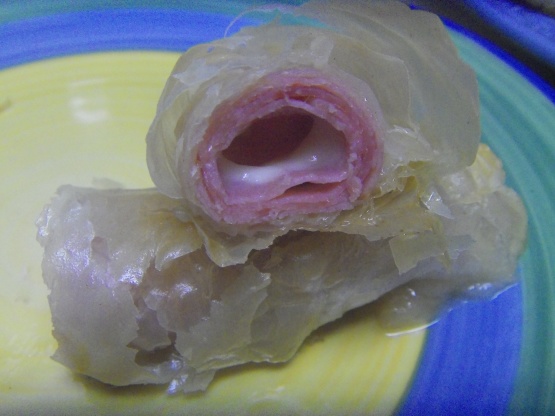 I think this came from one of my Paula Deen recipes. My grandchildren love these but so does everyone that tries them.

This is a much better recipe than my picture shows, as I had leaks in my phyllo dough, and didn't realize it until it was too late. But that made no matter, as they had been cooked on a Sil-pat, and the edges of the cheese got all crusty and I just 'draped' it over the stick, to eat. Tasty, I will tuck this one away for the next time I'm having appy night with phyllo. Thanks so much for sharing, Country Cook in Oklahoma.
Preheat oven to 350. Line a baking sheet with parchment paper: set aside.
Wrap each string cheese stick in 2 slices of ham, being sure to secure ends.
Unroll phyllo dough. Brush 1 sheet evenly with melted butter. Top with a second sheet of phyllo, brushing evenly with butter. Roll prepared cheese in butter phyllo sheets, being sure to secure tightly.
Brush tops and sides with melted butter. Tear 1 phyllo sheet into strips, and layer strips onto buttered sticks. Repeat procedure with remaining prepared cheese stick, ham, phyllo, and butter.
Place on prepared baking sheet, and bake for 20 minutes, or until lightly browned.