Bayhill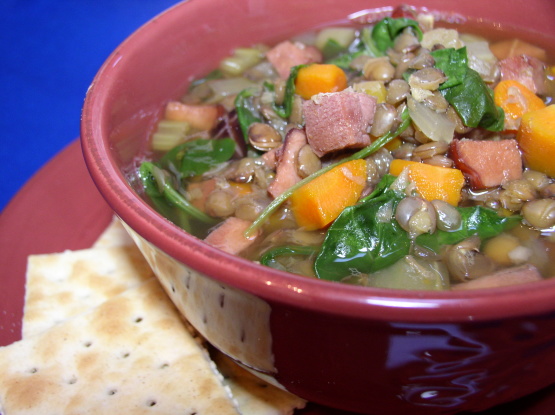 I found this recipe when joining a crockpot recipe group on yahoo. Have not made this yet but it sounds very good especially with the addition of the spinach. A great idea for those cold winter days!

Top Review by Redox
This was pretty decent; a bit bland for our tastes but easily fixable. My wife and I ate it the first night after following the recipe precisely, save for cutting the amount of spinach. The flavor improves as do many soups after a night in the 'fridge. It's amazing how much a 15 oz. can of diced tomatoes improved the flavor. I also added Tabasco sauce, Worcestershire sauce, and at the very end, additional salt to taste. I'm sorry I didn't measure the additions or I'd include them for anyone who'd want them. Next time I'll quantify the additions for anyone who might find them helpful. The 4 stars is for the recipe as written, with the the changes, I'd give it 5 stars. Of course, everyone perceives tastes differently and I'm sure others would prefer the recipe as written. Thanks for posting this.
In a 3 1/2-quart or larger crock pot mix all the ingredients together, except the spinach and lemon juice.
Cover pot and cook on high for 4 to 5 hours or low for 7 to 9 hours or until lentils are tender.
Add spinach and stir, cover and cook 5 minutes or until tender.
Stir in lemon juice, mix well, and serve.