Ham and Grits Crustless Quiche
vrvrvr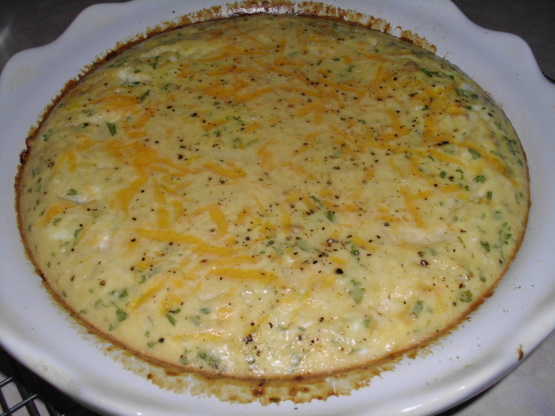 Great brunch dish with a definite southern flavor. No crust to make so its easy!

Tonight was the second time that we had this quiche for dinner. The first time I made it to use up some things I had on hand and actually didn't realize that the can of evaporated milk I had was only 5 ounces so I used 7 ounces of 2% milk and the grits seemed very pronounced. Tonight, my husband made this again and I had the correct amount of evaporated milk and the grits mixed in much better, so it must have been my fault the first time. Anyways, we really enjoyed this quiche with a side salad and dinner rolls. Thanks for a great recipe!
Bring water and 1/4 t.
salt to a boil.
Add grits, stir and remove from heat.
Cover and let stand 5 minutes.
Add evaporated milk, ham, cheese, mustard, hot sauce and eggs and stir to mix well.
Pour mixture into a greased quiche pan or deep dish pie pan.
Bake at 350 for 35 minutes.
Let stand for 5- 10 minutes before serving.