Ham and Egg Hawaiian Pizza
invictus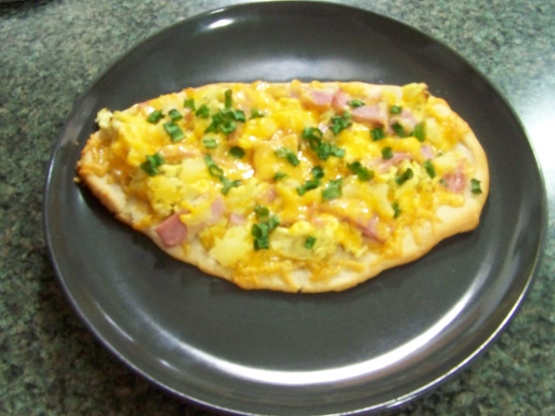 This is from Rachael Ray's 30 minute meals for kids. My son and I made these this morning for breakfast with a few changed to make individual sized pizzas. They are fun to make together and make for a pretty good meal.
Preheat oven to 400 degrees.
Beat eggs with salt and pepper and milk or water if using. Heat a non-stick skillet over medium heat. Add eggs and cook stirring constantly until still just a bit wet. Remove from heat.
Divide pizza crust into 4 equal parts and place on a non-stick cookie sheet. Top each with equal parts egg, cheese, ham, and pineapple.
Bake for 10 to 12 minutes or until crust has browned and is crisp and cheese has melted.