flower7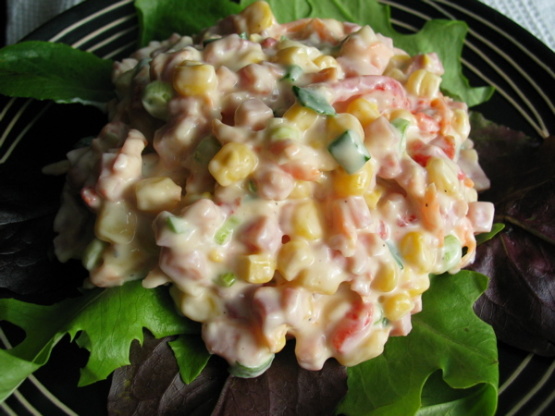 I've had this for at least 15 years. The chill time is the cook time. The longer you chill the better it tastes. Toss again before you serve this.

Delicious! I used an 8 oz pkg cubed ham (about 1.25 cups) and green onions (what I had). Also used lite sour cream and mayo. I started out with no salt (was afraid the ham would be too salty) but ended up adding about 1/8 tsp. This is a very creamy salad with a little bite from the dijon. It is very good when freshly made so I look forward to trying it again tomorrow after it has blended more. Thanks for the recipe shapeweaver!
In a medium-sized bowl, make dressing by mixing together sour cream, mayonnaise, mustard, vinegar, salt, and pepper.
Add remaining ingredients and toss to blend. Cover and chill for at least one hour.
Longer chill time is better so the flavors can blend.