Calee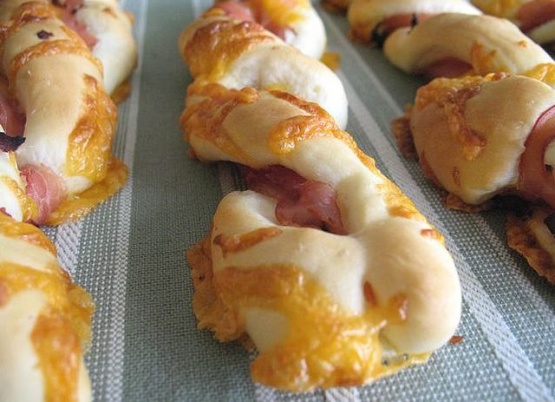 My daughter doesn't like sandwiches (makes lunch bags difficult!) but gave the "go-ahead" when she saw your photo. I used Recipe #117322 (since I had it on hand) and it worked really well, since it makes really puffy rolls I didn't even need to let rise for the second time). They turned out like your photo, too! This is the third day I've put them in my daughter's lunch and I haven't heard any complaints. Thanks Calee! Roxygirl
Following the great directions of Kittencal's bun recipe after the first rise punch dough down.
Cut into 16 equal pieces.
Form a thin ropes making sure the dough has an even thickness that measures 16 inches in length.
Cut deli ham into strips to fit over dough.
Fold dough ropes in half and take each end and twist 4 times.
Roll in grated cheese.
Place on baking sheet lined with parchment paper. May need two baking sheets or more depending on the size of your sheets. Leave space between each twist.
Cover and let rise for 30 minutes.
Bake at 375 for 20-25 minutes.
Cool on wire rack.