Derf2440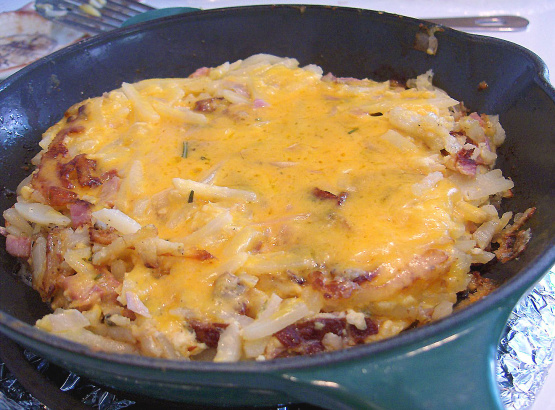 From Eating Well magazine March/April 2007. This is a simple dinner. All you need to add is a vegetable and dinner is on the table in under a half hour. This would also work well for a nice and easy brunch.

This had a delicious flavor with the rosemary. I didn't want to fool with the flipping, so I used a cast iron skillet, browned it well on the bottom, then just stuck the whole skillet under the broiler until the top looked set and started to brown. Then added the cheese and broiled a few more seconds. Thanks for sharing!
Beat egg in a large bowl. Stir in ham, 1/2 cup cheese, shallot, rosemary, pepper, and salt. Add frozen potatoes and stir to combine.
Heat 1 teaspoon oil in a large non-stick skillet over medium heat.
When oil is hot (test with a drop of water; oil should sputter, but should not be smoking), pat potato mixture into an even round in the pan. Cover and cook until browned and crispy on the bottom, 5 to 7 minutes.
Remove pan from heat.
Place a rimless baking sheet on top. Wearing oven mitts, grasp the pan and baking sheet together and carefully invert, umolding the rosti onto the baking sheet.
Wipe out any browned bits from the skillet.
Return it to the heat and add the remaining oil. Slide rosti back into the pan, browned side up.
Top with remaining 1/2 cup cheese, cover and cook the second side until crispy and browned, 4 to 6 minutes.
Slide onto a platter and let stand 5 minutes.
Cut into wedges and serve.