Zaney1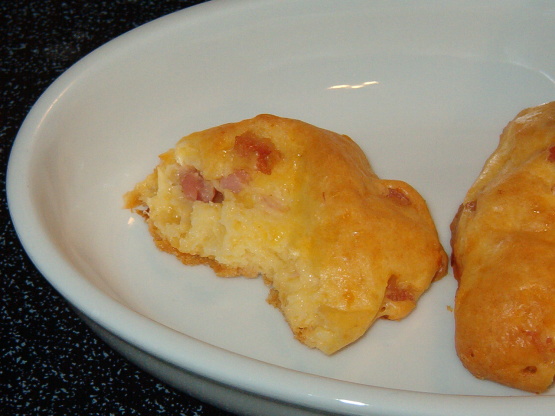 A good use of leftover ham. These are great with a bowl of soup. You can use any cheese you wish. The freeze well and heat up nicely in the microwave.

Top Review by Zaney1
Excellent!!!I added a half cup more of both the ham and the cheese b/c we like more stuff than biscuit. It turned out great!! I should have made a double batch, they went fast!I wasn't sure if I should take it off of the heat when I added the flour and eggs, so I did and it worked just fine.Definately a make again recipe!! I made mine Tablespoon-drop size and it made about 38 of them. I made them to go with chili, but they would be good for breakfast too. Just make them bigger! Yummy!!
Combine water, butter and salt in medium saucepan.
Heat to boiling.
Add flour all at once and beat with a wooden spoon until the batter leaves the sides of the pan.
Add eggs one at a time using a beater.
Beat well after each egg.
Beat until dough i s smooth and shiny.
Stir in cheese, ham and mustard.
Drop by spoonfuls on a greased cookie sheet and bake at 400°F for 20-25 minutes.