Ham and Cheese on a Rye Bread Salad
Prep 15 mins
Cook 15 mins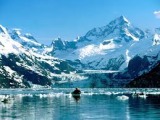 This is a fun twist of the sandwich classic, by Grace Parisi for Food and Wine Magazine. She makes this ham salad mixed with crunchy rye bread croutons and little bits of Gruyere cheese. Then she tosses it in a mustardy dressing with celery and chives. Grace likes to wrap the salad in Bibb lettuce leaves for an inside-out sandwich. You may choose to serve any way you'd like. Note: you can prepare the rye croutons in advance.
Directions
Preheat the oven to 350 degrees F.
On a rimmed baking sheet, toss the rye bread cubes with 2 Tablespoons of the canola oil. Bake for about 15 minutes, stirring once, until the bread is lightly toasted. Let cool.
In a bowl, whisk the mustard with the mayo and vinegar. Gradually whisk the remaining 3 Tablespoons of canola oil and season with pepper to taste. Add the chopped celery, ham, Gruyere, snipped chives and the rye bread croutons. Toss well and serve immediately.
Note: the rye bread croutons can be made in advance and stored in an airtight container for up to 1 day.
Reviews
Most Helpful
So I totally misread the name of this salad when I tagged it for ZWT 7. I thought it was a ham and cheese salad served on rye bread, not a bread salad! : ) I ended up making it that way because I had bought rye crackers to serve it on and didn't have bread to make croutons with. The flavors combined were delicious and it made a great lunch spread. I didn't want to do stars since I substantially changed the recipe, but I'd still recommend it!