Ham and Cheese Buttermilk Muffins
loof751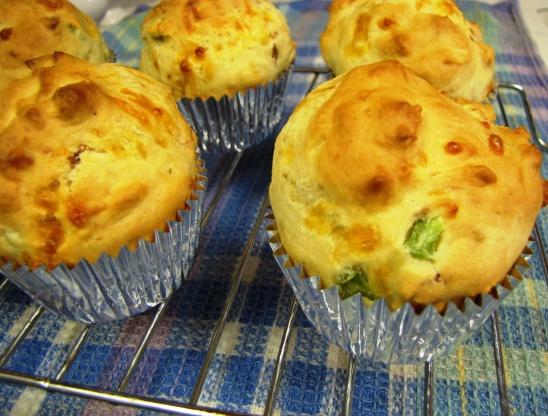 Original recipe from the 9/17/08 News Sentinel; posted here for safekeeping with my "healthy" adjustments. Update: Just made these and my are they good! They puff up to become quite large, and they make for a hearty, filling breakfast with some fresh fruit or sliced tomatoes. I imagine you could use other cheeses, veggies, or meats (sausage, bacon?) to make your perfect muffin, too!

What a great idea. I could not find my muffin pan, used a silicone pan that I did not even remember I had which I think is for muffin tops - not very big muffins, but that way, you get to eat more of them. I used left-over ham, more green onions and whatever cheese it was that I had. They stayed in good shape for several days - I'd throw one in my bag to take to work, zap in the microwave and enjoy the envious looks of my officemates.
Preheat oven to 400 and spray a 12 cup muffin pan.
Whisk together dry ingredients and spices.
Make a well and whisk together eggs, buttermilk, oil, and butter. Stir in scallions, ham, cheese, and bell pepper.
Mix the dry ingredients with the wet gently until just moistened.
Scoop the batter into the pan (cups will be very full).
Bake 20-25 minutes and allow to cool 15 minutes before transferring to a cooling rack.
Will keep in the fridge for 3 days or frozen for one month.