Ham and Cheese Bread Pudding
twissis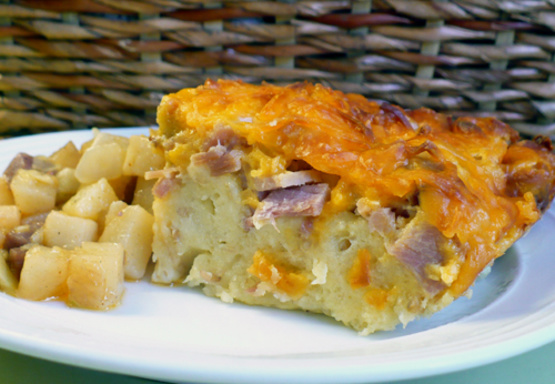 This sounds interesting. I grabbed it from a cookbook on my mother's shelf called 'Grandma's Casserole '. I wanted to put in on here so I have it when I am back in the UK. It sounds like it would be a nice brunch dish and maybe especially good for an Easter breakfast or something like that. Coking time doesn't include chilling time since it could be 6 hours or it could be overnight.
Grease 11x7-inch baking dish.
Spread 1 side of each bread slice with butter.
Cut into 1-inch cubes and place on bottom of prepared dish.
Top with ham and sprinkle with cheese.
Beat eggs in medium bowl.
Whisk in milk, mustard, salt and pepper.
Pour egg mixture evenly over bread mixture.
Cover; refrigerate at least 6 hours or overnight.
Preheat oven to 350 degrees.
Bake bread pudding, uncovered, 45 to 50 minutes or until puffed and golden brown and knife inserted into center comes out clean.
Garnish, if desired and then cut into squares.
Serve immediately.