Sonya01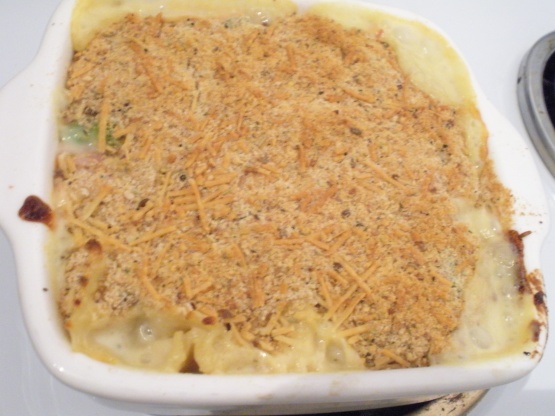 Posted for request on what to do with leftover ham. Well this is a great way!

Top Review by jbe467
Sorry about this, but we really did not enjoy this dish. It had all the things we would normally enjoy in it, but somehow didn't work for us. Possibly there was too much flour - it tasted rather chalky. I made sure the sauce was smooth before the addition of the cheese, but I could really tase the flour.
Preheat oven to 350 degrees.
Bring a large pot of lightly salted water to a boil and cook pasta for 8-10 minutes or until al dente; drain.
In a large saucepan, melt butter and saute garlic for 2 minutes.
Whisk in flour, salt and pepper.
Cook until smooth.
Add milk gradually, stirring constantly.
Bring to a boil for 1 minute and then add mustard and Colby cheese.
Continue to heat until cheese is melted, stirring all the while.
Remove from heat, add ham, peas and pasta.
Mix.
Pour into a 2 quart baking dish.
Sprinkle with Parmesan cheese and bread crumbs.
Bake for 20-30 minutes, until bubbly and golden.