Ham and Cheese Arancini (Italian Fried Rice Balls)
Food.com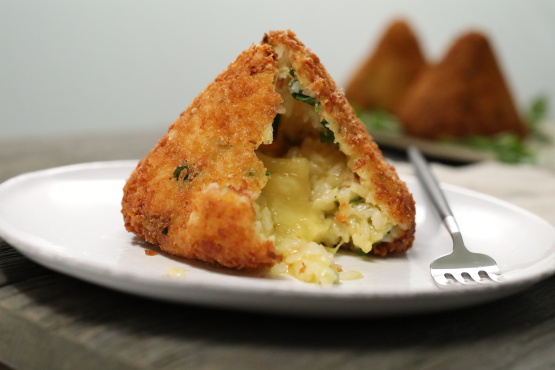 Yummy, comforting deep-fried rice balls filled with ham and onion, stuffed with melty, gooey cheese! I came up with these tasty little morsels after having something similar at a tapas restaurant in my hometown. Sadly, that restaurant closed its doors, so I was forced to recreate my favorite dish. *I have made these with havarti and swiss cheeses instead of the cheddar: all are equally good!* NOTE: After reading the review, please note: You definitely want to use rice that is somewhat sticky. Do not use leftover fluffy rice that has had the starch rinsed off as they will not hold together well.

These were pretty tasty, but I had a very hard time getting the balls to stick together. They tended to fall apart as soon as I stopped pressing them as I tried covering them w/flour, etc. Adding more egg made it worse. More rice didn't help. I didn't want to add flour since I knew flour wouldn't cook through during the short deep frying. Adding some bread-crumbs to the mixture did the trick nicely and kept the balls together like snowballs.

I guess arborio rice or slightly overcooked rice would work better for arancini. I always de-starch my rice by cold rinsing after the first boil. It makes for fluffy rice, but for this recipe sticky rice would be best.

I used chorizo sausage in lieu of ham, chopped to bits in the mini-processor. It added a nice complexity to the flavor. Covered w/ marinara, following the Italian tradition. Green beens completed the meal.
Saute onion in 1 T butter over medium heat until translucent and beginning to brown. Remove from heat and allow to cool.
In a bowl lightly beat 2 eggs. Stir in cooked rice, ham, melted butter, Parmesan cheese, sauteed onion, seasoned salt, garlic salt, parsley and pepper.
Cover and refrigerate for 30 minutes.
Roll into 1-1/2-inch balls.and press a cheese cube into each ball, reshaping around the cheese.(I have used havarti and swiss in place of the cheddar with fantastic results!).
Place the flour into a small bowl. Whisk 2 eggs in a second small bowl. Place the dry breadcrumbs in a third small bowl.
Dip each ball into flour, then into the egg and then into the breadcrumbs.
Heat oil to 375 degrees, then fry rice balls until golden brown (about 4 minutes). You can also shallow fry them in oil, turning to brown.
Drain on paper towels and enjoy! They are nice dipped in french onion dip, ranch dip or all on their own.