Parsley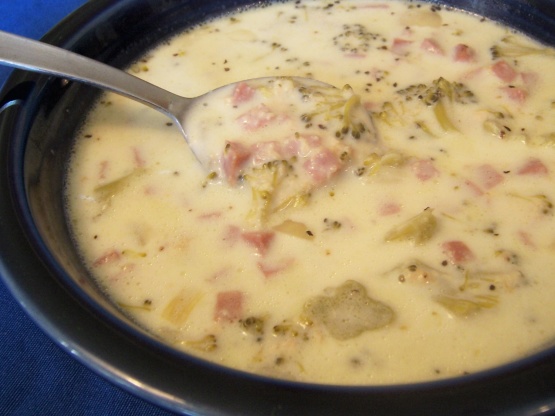 I joined a crockpot recipe group and this is one of the recipes that was sent to me in an email. This couldnt be simpler!

i made this tonight with these revised instructions from Lauralie41 for cooking stovetop: Add your ham, onion, and broccoli to the water and heat that thru to about a boil. Make sure the milk and flour are mixed up and you dont have any clumps then while stirring or whisking, add the flour mixture and let that thicken up. Cook until the broccoli is tender and the soup is heated thru. Take a bit of broth and whisk it into the half and half so it isnt ice cold when being poured in the soup. Turn the heat off and add the half and half into the soup and stir or whisk while pouring. Heat thru again and then add the cheese. served it up in some bread bowls and it was definatly delish - had to add salt, pepper, garlic, and i used sharp cheddar cheese because we dont like swiss - my soup hateing boyfriend enjoyed this very much
In a small bowl mix together well the flour and evaporated milk.
To the crockpot, add ham, broccoli, onion, swiss cheese, water and flour/milk mixture.
Set crockpot to low and cook for 7 hours.
Before serving, stir in half-and-half and heat thru. Serve immediately.