Ham and Broccoli Casserole
Parsley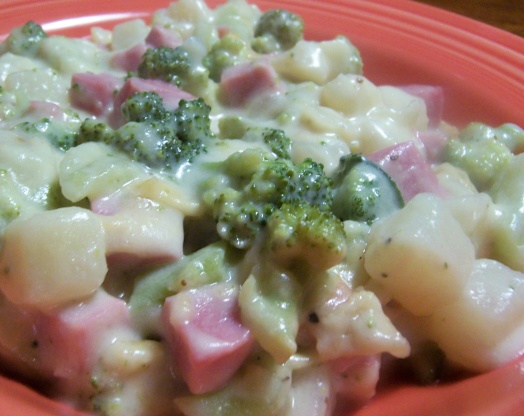 Comfort food at its best. Try this delicious recipe that is loaded with flavor and perfect for those cold nights. This is also a great recipe to use up left over ham that your family will be sure to love!

EXCELLENT!! Very Good!! My husband loved it! This recipe reminded me of a meal my mom use to make when I was younger, it is just as tasty and yummy. Ham, cheese and potatoes.. what is there not to love! The only thing I did differently is cut my potatoes into quarters and I used 1 1/2 cans of the midget potatoes. When I finished my cheese mixture on the stove, I was not sure if I just pour it over my potatoes and ham or mix it all up. So, I went ahead and stirred it all together before baking. When it came out of the oven I sprinkled more cheese on top and served with biscuits. Thanks so much for sharing!! YUMMY!!!!
Preheat oven to 425 degrees.
Cook broccoli until just tender, then drain well.
Combine broccoli with ham and potatoes in shallow 1 1/2 quart baking dish.
In a sauce pan, melt butter and blend in 1/4 cup of flour slowly.
Gradually add 2 cups of milk and stir constantly. Stir mixture until thickened. (Stir with a wisk for about 10 minutes until very thick).
Add remaining ingredients and season with salt to taste.
Bake for 30-35 minutes at 425 degrees uncovered.