Parsley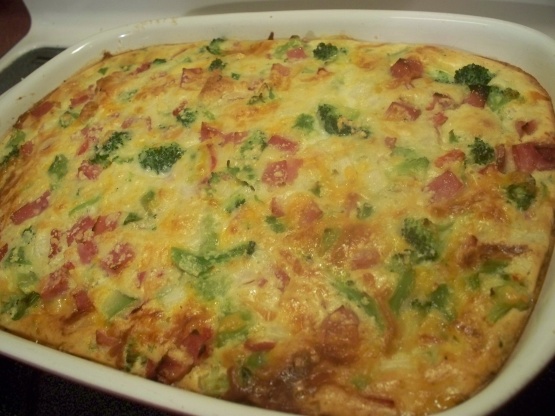 An easy casserole that uses Bisquick baking mix. Great for leftover holiday ham. I like that this uses sharp cheddar and swiss cheeses, but you could use all sharp cheddar, if desired.

I really liked this. I took it to a church potluck and it went over well. I will make it again with a little more seasoning, salt, pepper and maybe some garlic powder. This is a great base for making all sorts of dishes. I think you could change the meats and veggies and make it however you want. I added the mustard powder to the bisquick because I thought it might not mix in so well with the other ingredients. I cooked it for about an hour and ten minutes. When I took it out it was still wobbly but it firmed up as we took it to the church. MMmmm.
Preheat oven to 350°F
Lightly grease/spray a 13 x 9 baking dish.
In a large bowl, toss together the ham, broccoli, onions, red pepper, cheeses and dry mustard powder.
Mix very well and pour into the prepared baking dish.
In a separate bowl, whisk together the milk, eggs, and Bisquick.
Pour over the top of the other ingredients and bake.