Ham and Asparagus Roll-ups
Bobtail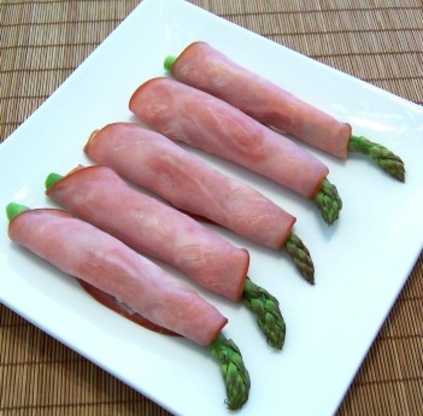 Adapted from a recipe at kraftfoods. It's very easy, and low fat too!

I used honey ham instead of smoked, since that's what I had, and it was great. I also added a little bit of dried basil with the pepper. Thanks for a yummy recipe!
Preheat oven to 350°F.
Flatten and dry the ham slices.
Stack ham in piles of 2 slices each; spread each stack with 1 tsp of cream cheese.
Sprinkle with freshly ground black pepper.
Place 1 asparagus spear on one of the long sides of each ham stack; roll up.
Place in 13x9-inch baking dish.
Bake for 15 to 20 minutes or until heated through.
NOTE: You can make this ahead, just assemble as directed, cover tightly with plastic wrap and foil.
Refrigerate overnight or until ready to use.
Uncover and bake as directed.