berry271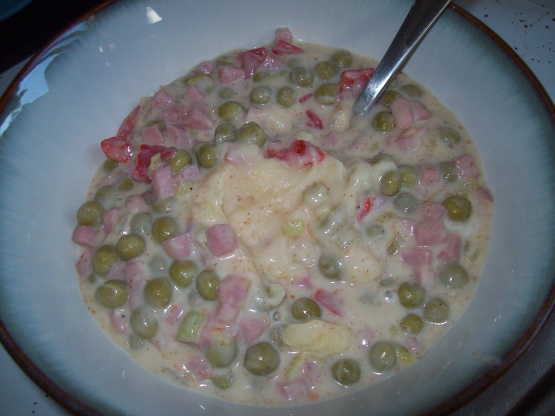 A great recipe for leftover ham. Serve it over buttered toast or leftover mashed potatoes for a quick and easy meal.

I have always served this over mashed potatoes. It's a nice way to make instant potatoes (If you don't have leftovers of the real thing on hand) a little more "special." It is a very comforting and tasty dish. I have even made a "prep ahead cassarole" version to take as a meal to a friend. To do this I made the potatoes and lined the bottom of a 9 by 13 dish with them, and then made the sauce and poured it on top of the potatoes. It warms up in a cassarole dish in about 20-30 minutes at 350.
Melt butter in a heavy saucepan, sauté onion and celery over medium heat for 5 minutes.
Add the flour and stir until incorporated.
Slowly add the milk stirring constantly until smooth and thickened, add more milk if the sauce becomes too thick.
Add remaining ingredients and cook over low heat, stirring frequently until heated through.