spock888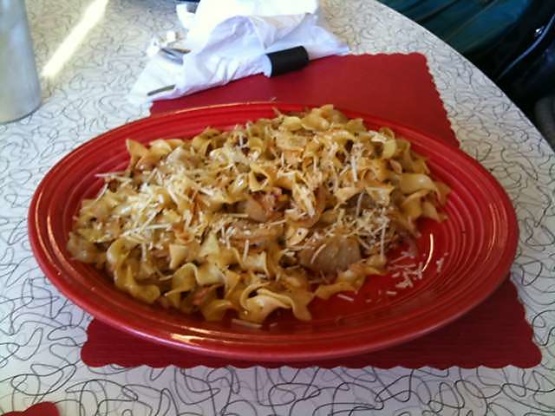 From More Diners, Drives-ins and Dives. Recipe courtesy of Kelly O'Conner of Kelly O's Diner, Pittsburgh,PA
1

cabbage, green, core removed and leaves separated

4

ounces butter, unsalted

2

onions, Spanish, julienned

1

tablespoon salt, garlic, divided

1

lb bacon, sliced, cooked, drained, and crumbled

5

cups noodles, egg, wide, cooked al dente and rinsed in cold water

1

teaspoon black pepper, freshly ground
1⁄2 cup cheese, Romano, grated
Bring a large pot of water to a boil. Add the cabbage leaves and cook until crisp-tender, about 5 minutes. Drain and julienne.
Melt the butter in a large skillet over medium heat. Add the onions, sprinkle on half of the garlic salt, and let the onions sweat for about 10 minutes, stirring often. Stir in the cabbage and cook, stirring all the while, until the onions and cabbage start to caramelize, about 10 minutes.
Stir in the crumbled bacon, the noodles, the remaining garlic salt, and the pepper, and let the haluski cook for 5 more minutes or so. Plate it up and top it off with Romano cheese.