Dawnab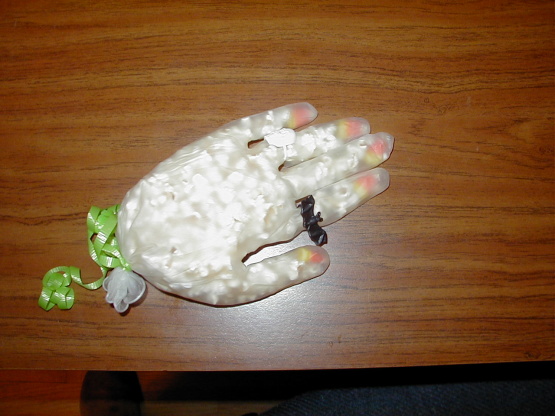 This is a non-edible but creative Halloween project that can be used for decoration or an activity at a Halloween party.

This is a classic - Halloween parties in many schools are being called "fall parties" and witches and scary things are frowned apon so as not to disturb certain individuals- sooo- when planning a my daughters kindergarten room party- we called these "scare crow hands" and tied them off with straw like raffia!!! Worked great with our fall on the farm theme.
25

candy corn

1

bag microwave popcorn, popped
You will also need: 5 latex gloves--like the ones in a doctor's office; 10 plastic Halloween rings- spiders and skulls; 5 feet of string or ribbon.
Insert one candy corn into each of the glove's fingers, pointy side toward the tip.
Fill rest of glove with popcorn.
Tie string around glove opening to seal.
Place rings onto fingers.