Halloween Eyeball Cookies
AnnieLynne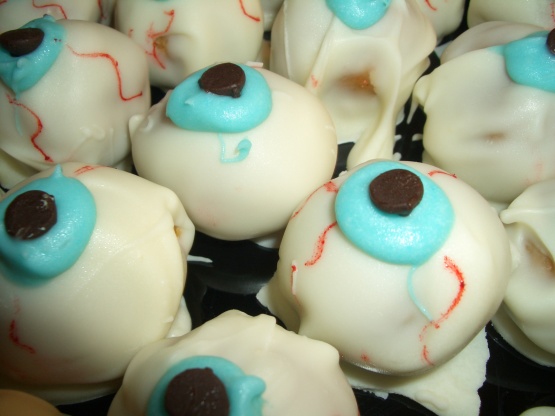 Halloween treats to make with your kids. How can anything that looks so hauntingly creepy taste so good ?? My kids have enjoyed taking these to school for years, and so will yours.

These turned out way cute!!! I made a double batch. Half for my 5 year olds kindergarten party tomorrow, the other half to take to my mom's halloween night. For a double recipe it took a whole 28 oz jar of peanut butter, roughly a half bag (2lb) powder sugar, 2 sticks butter, 2 TB vanilla,and a 24 oz pk of white bark. I also froze the balls before dipping and dipped them with a toothpick. Another trick I found halfway through is to use a toothpick to poke a hole in the iris and insert the choc chip pointy side down into the hole. Thanks for such a great recipe!!! I know they will be a hit, and are super yummy!!! :)
Cream the butter and peanut butter together.
Beat in the vanilla and sugar.
Chill for 1/2 hour.
Roll into small balls, chill on wax paper for another 1/2 hour.
In a microwave, melt the white dipping chocolate.
Using two spoons dip the eyeballs into the white chocolate.
Let cool on waxed paper until firm. Chilling will speed up the process.
Pour a drop or two of blue food coloring into the remaining melted chocolate.
Make a round iris on the eyeball, and immediately press a miniature chocolate chip in the center for a pupil, doing 5 at at time.
For the bloodshot effect, dip the tiny end of a toothpick in red food colouring and squiggle the lines from the pupil outward, but not quite to the edges of the ball.
These are quite tasty--considering how creepy they are.
Note: White dipping chocolate is also known as white bark.