SharonChen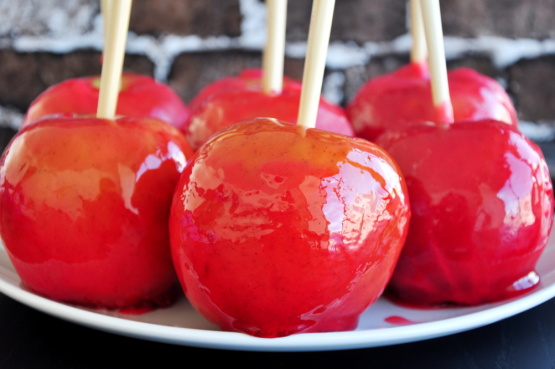 Also from the Company's Coming series, another excellent recipe. We make these every Halloween.

These were easy to make. It takes longer for the temperature to reach 300 because you have to wait for the water to boil off. So, don't worry that it isn't going as fast as you think. Also, use a small pot so the liquid is deeper. I also did what another reviewer suggested and sprinkled a cookie sheet with sugar to set the apples on. I also took the left over candy and poured it into little tart pans and made candy discs. I will make this recipe again. Thanks for sharing.
Wash, dry and polish apples.
Remove stem.
Insert wooden stick in stem end.
Remove blossoms.
Set aside.
Put sugar, syrup and water into saucepan.
Heat and stir to dissolve.
Boil without stirring until it reaches 300 degrees on candy thermometer.
A bit of syrup dropped into cold water will separate into brittle threads.
Remove from heat.
Stir in cinnamon and food coloring.
Dip apple to cover.
Hold above saucepan to drain.
Place on greased pan or tray stick side up.
Quickly dip remaining apples.
Return syrup to heat long enough to liquefy if it firms too much.
Let stand at least 1 hour before serving.