Halloumi and Olives Skewers
Rita1652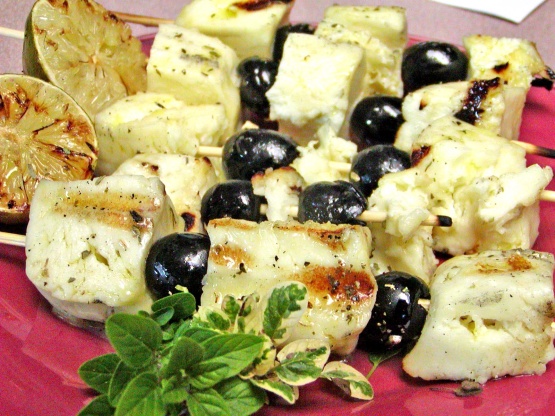 Yummy, squeaky and salty! A must try! Grilled cheese and olives! You can serve with wedges of pita as an appetizer or straight off the skewers.

A very nice way to do haloumi! I liked the lemon juice / oregano combination, but I think I prefer it pan fried even though it's not as healthy as this recipe! This went very nicely with a meal of meatballs and salad, thanks for posting!
Brush the cheese and olives with olive oil and skewer alternating onto 4 skewers. Place onto a medium hot oiled grill for 2 minutes on each side, or until marked.
Grill lemons cut side down till marked.
Remove cheese and sprinkle with oregano. Remove lemons.
Drizzle the olive oil on top and squeeze the lemon juice over the cheese. Serve with grilled pita bread.