lalalere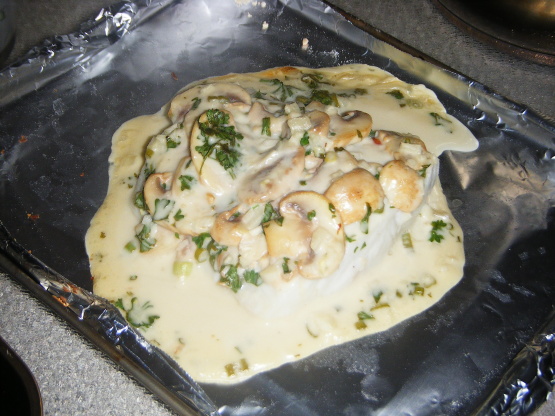 Quick and elegant topping for fish and delicious too! Tasty combination. Adapted from Canadian Living magazine.

Oh boy!! This is delicious!! We eat a lot of fish and halibut is one of our favorites, so this recipe was made for us! I used the filets, and white mushrooms. The topping is scrumptious! I thought it might be a little lemony, but NOT! The flavors came together beautifully. Very easy recipe. I will make this again! Thanks Dorothy for another winner!
In a bowl, mix together, mushrooms, onions, mayonnaise, parsley, lemon juice, ginger, salt and pepper; set aside.
Place fish on greased rimmed baking sheet or broiling pan; broil for 5 minutes.
With a lifter, turn fish over; spread mushroom mixture evenly over fish.
Broil until mushroom mixture is golden brown and fish flakes easily when tested, about 5 minutes.