Halibut With Bright Lemon Cream Sauce
BecR2400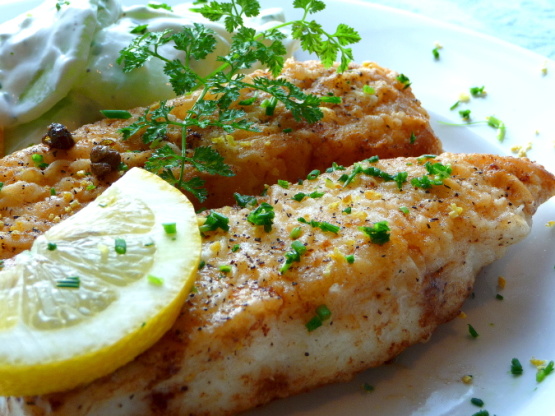 Tender halibut with a suprisingly light and brightly flavored lemon cream sauce. It can be made with as many or as few capers as you prefer. Serve with salad and fresh bread.

Very good and very simple. Forgot the chives but still great. Will make again.
Mix flour, salt, and pepper on a large plate and then dredge each cut of halibut. Shake off any excess flour.
Melt 4 tablespoons butter in a large saute pan, wait for foam to reduce and add fish to the pan. Saute, turning once, until the fish is cooked all the way through, flakes easily, and is golden brown all over. Transfer fish to a serving platter.
Melt remaining 2 tablespoons of butter, and add the capers. Saute 1 minute, then add lemon juice and whisk lightly. Pour over the fish on the serving dish and serve immediately, sprinkling with zest and chives.