Bergy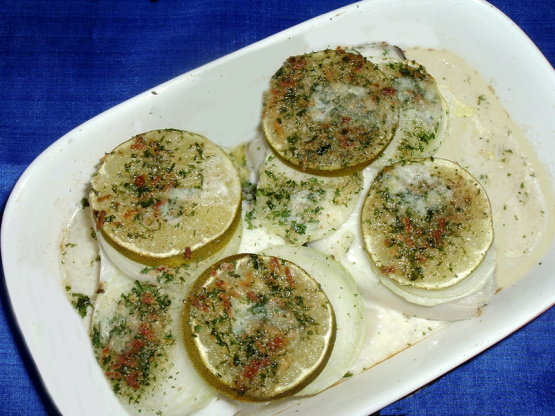 These halibut steaks are good with "Lemon roasted potatoes" (recipe in Recipezaar) and steamed/buttered asparagus with a little of the grated Swiss cheese sprinkled over the asparagus.

Top Review by Bergy
Dorothy I love our Halibut season when we can get it fresh and your recipe has made it even more enjoyable. What a simple, easy to prepare and tasty recipe. I got it ready in the AM except for sprinkling the breadcrumbs, cheese mixture on top and dotting on the butter. I did that just before baking it. I cut the recipe to 2 servings worked well. I did use a little more than 1/8 cup wine (which if I followed the recipe and cut it into 2 sevings it would have been) for the moisture while baking.. The baking time for two servings was almost the same just a tad less . Thanks Dorothy for another great recipe — May 21, 2003, 2 members found this helpful Additional comments- I used lime instead of lemon. Th halibut was perfect - flakey & moist excellent results following your recipe.
Arrange steaks in buttered or sprayed shallow oven dish.
Arrange lemon and onion slices over fish.
Season with pepper and allspice.
Carefully pour wine over all.
Let stand for 15 minutes.
Combine- bread crumbs, grated cheese, parsley.
Sprinkle over fish.
Dot with butter or margarine.
Bake uncovered in 350°F oven for 25 minutes.