Halibut Fish Sticks With Dill-Caper Tartar Sauce
Yia Yia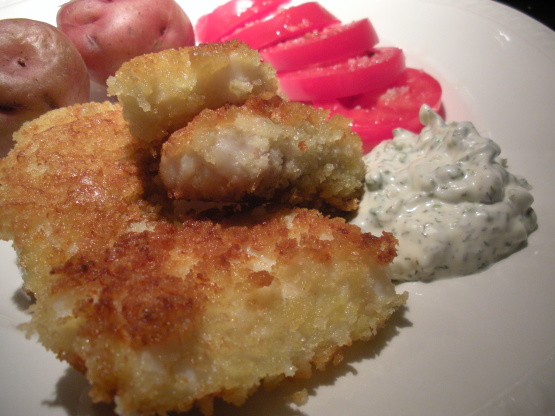 This is from the current Bon Appetit magazine, in the Fast Easy Fresh section. I fixed it for dinner tonight and we really enjoyed it. The coating is crispy and satisfying, and the tartar sauce is very good. I hope you try it and enjoy it as much as we did!

I just made the tartar sauce and it was really good... maybe not the ideal tartar sauce for kids. This is a recipe I'll definitely make again. thanks!
Mix first 5 ingredients in a bowl. Season with pepper.
Cover and refrigerate tartar sauce.
Spread panko on a plate,.
Whisk egg in a small bowl.
Sprinkle fish with salt and pepper.
Working in batches, coat fish with egg, then panko. Shake off excess.
Heat 1 1/2 T olive oil in a large skillet over medium heat.
Add half the fish and cook, turning often (I only turned once and got a very nice crust), about 4 minutes total.
Transfer to a plate and keep warm. Repeat with remaining fish and oil.
Serve with tartar sauce.